Managing Backups
From the Tape tab, you can also manage all backups stored on tape cartridges by clicking the Backups tab.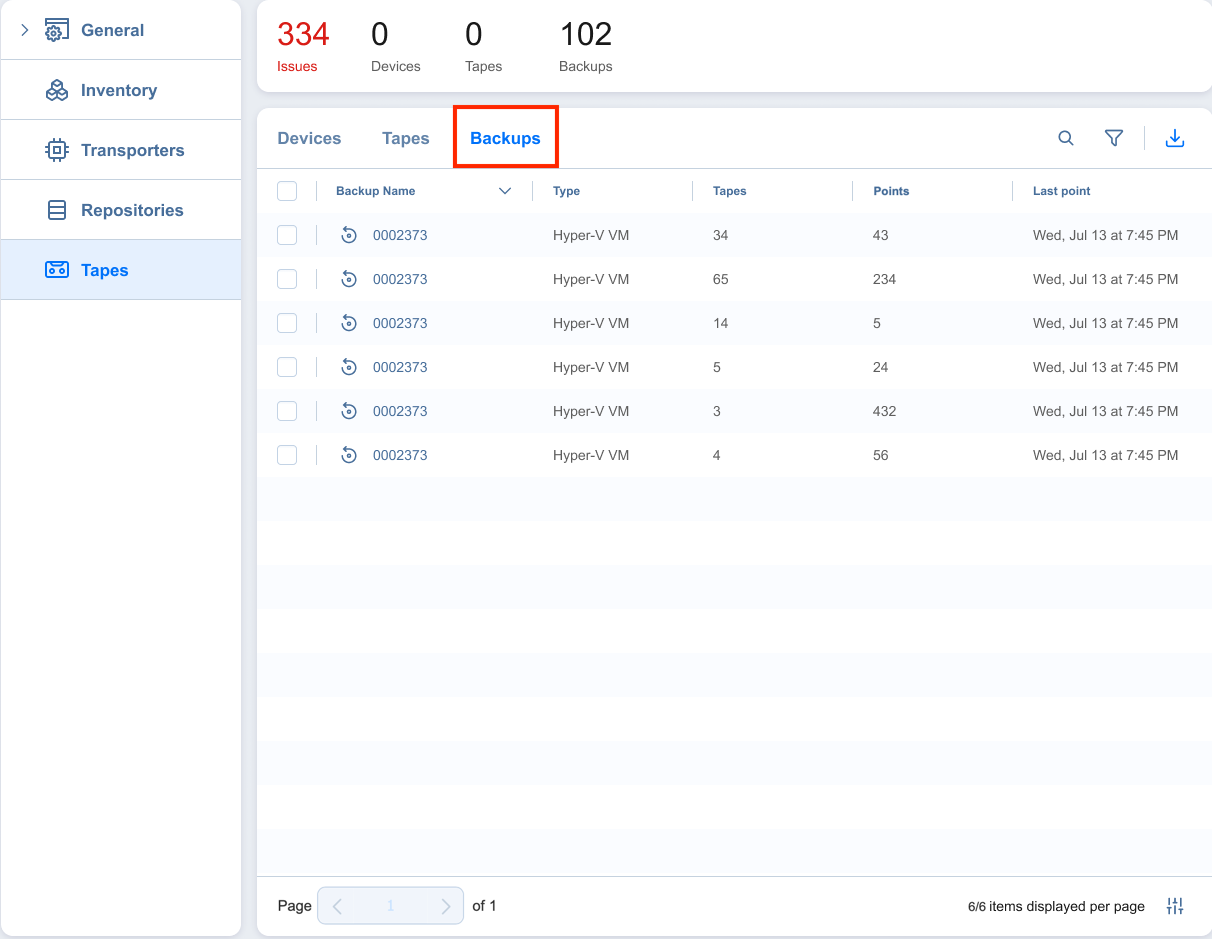 In this view, you can search for backups, recover from backups, and view backup details.
Searching for Backups
You can search for a specific backup by entering its name (or part of its name) into the Search box. The table will dynamically change to display the search results matching your query.
Clicking the Clear button in the search box clears the query, and the table displays all backups.
Filtering Backups
The Backups tab also provides sophisticated filtering options that can be applied to search for particular backups. To access filtering options, click the Filter icon in the top right corner. In the dialog box that opens, you can select one or several filtering criteria that will be applied with the AND statement.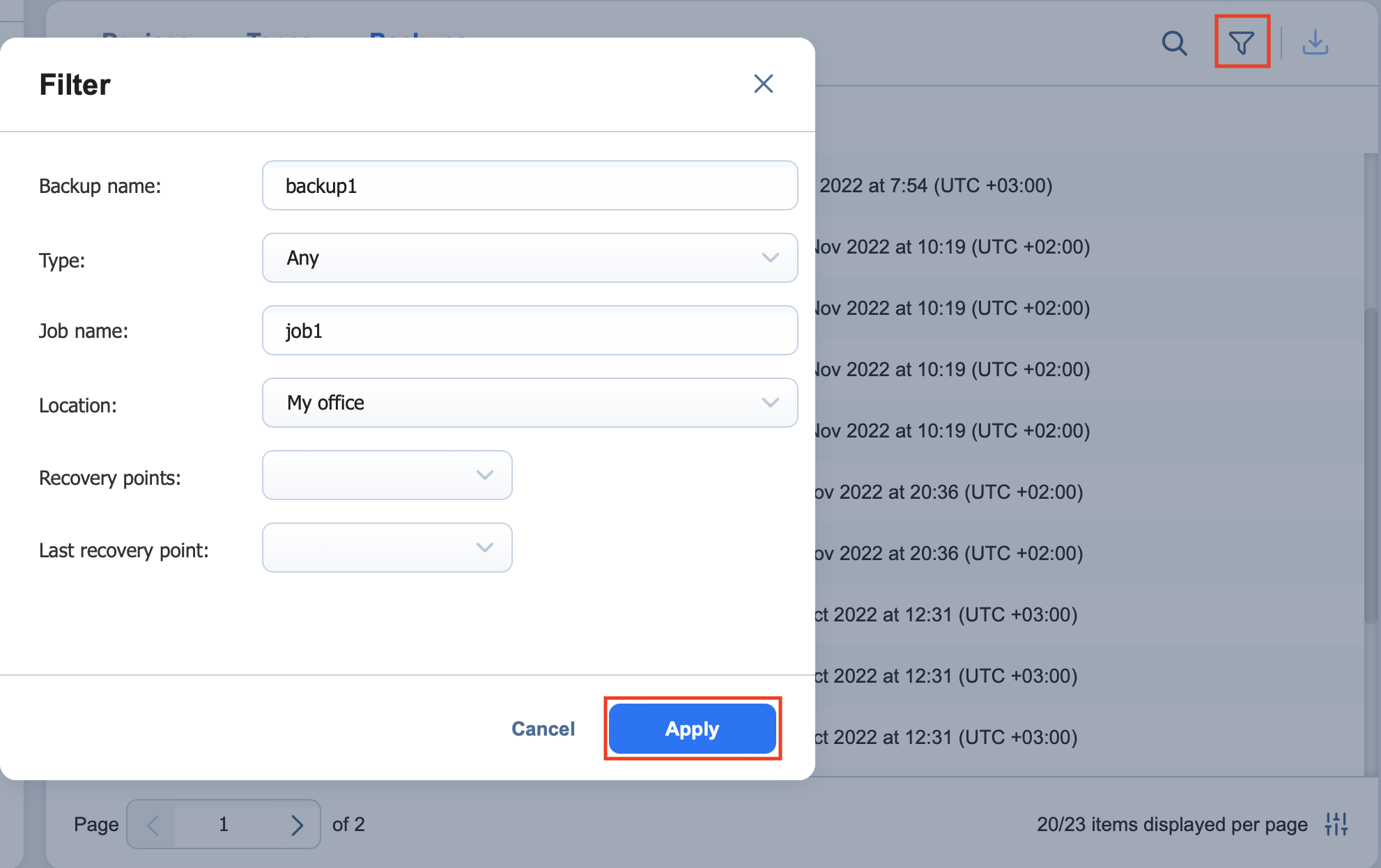 You can apply the following filtering criteria:
Backup name: The backups with the provided name will be displayed. Part of the name can be entered.

Type: Specify the type of backups to be displayed:

Any

VMware VM

Hyper-V VM

EC2 instance

Nutanix AHV VM

Physical machine
Location: Only the backups from the tape cartridges of the specified device location will be displayed

Job name: Only the jobs with the specified string in their name will be displayed

Recovery points: Only the backups with less or more recovery points will be displayed

Last recovery point: Only the backups with the last recovery point created on/newer/later than the date specified will be displayed
Note
The Search and Filter features can only be applied separately; you cannot simultaneously search for a tape cartridge by name and select filtering options.
Backups Table
The Backups table provides detailed information about each backup:
Backup name: Displays the name of the backup. Clicking the name opens the Recovery screen.

Type: Displays the type of backup

Job name: Displays the name of the job associated with the backup

Tapes: Displays the number of tape cartridges that the backup occupies

Points: Displays the number of recovery points the backup has

Last point: Displays the date of the last recovery point on the backup
Recovering from Backups
You can initiate the recovery process from the Backups tab by selecting the checkboxes next to backup names and clicking the Recover button.

Note
If you are recovering from multiple backups, you may only select backups of the same Type. If you select multiple backup types, the Recover button will be disabled.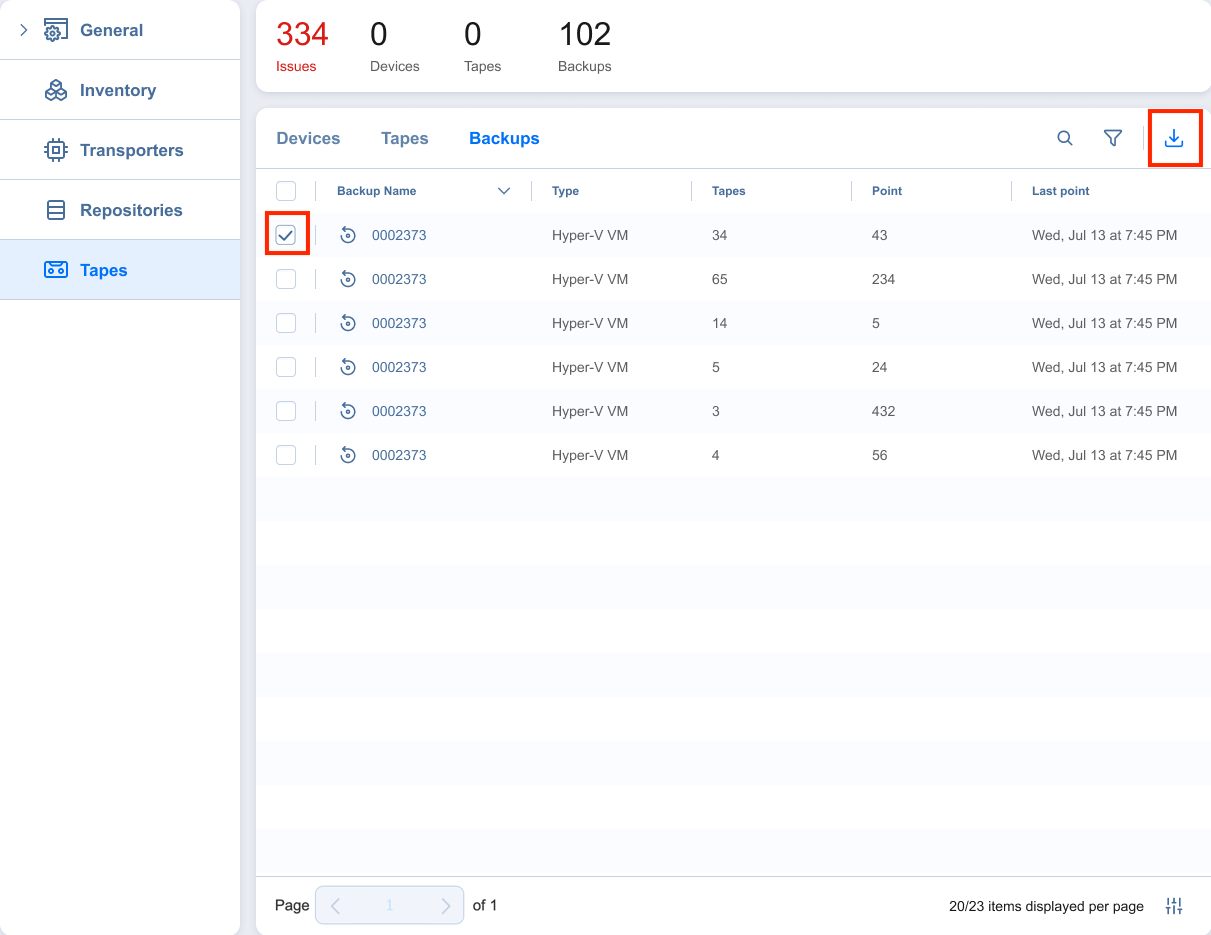 The New Recovery Job Wizard opens with the specified backups and their latest recovery points selected.