Microsoft 365 Backup
With NAKIVO Backup & Replication, you can back up your organization's entire Microsoft 365 account or individual users who have access to the following services: Exchange Online, OneDrive for Business, and SharePoint Online. The backups are stored in a SaaS Backup Repository for further recovery of Exchange Online, OneDrive for Business, and SharePoint Online data including user, shared, and group mailboxes, contacts, calendar events, emails, drives, team, communication, and personal sites, subsites, document libraries, lists, list items, and individual files and folders.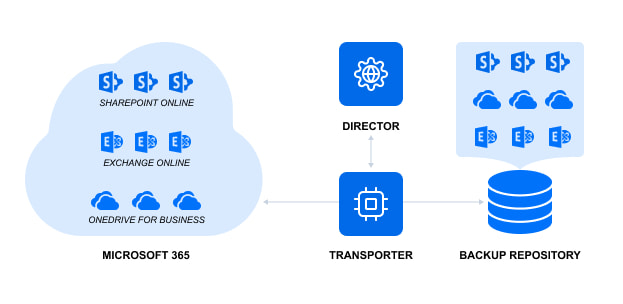 A common misconception among Microsoft 365 users is that data stored in the cloud is safe and that it is not necessary to back it up. However, under Microsoft's "shared responsibility model", Microsoft is responsible for reliable uptime and the physical and virtual infrastructure. Beyond simple geo-redundancy – which is not the same as a backup – ensuring data safety is the responsibility of users. To address this gap, NAKIVO Backup & Replication offers Backup for Microsoft 365 to ensure that data is accessible and recoverable at all times. By backing up Microsoft 365 application data, you ensure that if data loss occurs, the necessary items can be easily recovered to the original or a custom location.
To start using this feature, take the following preliminary steps: