Jobs and Concurrent Tasks
Job is a data protection activity that is performed by NAKIVO Backup & Replication in accordance with a distinct configuration. These are the main types of NAKIVO Backup & Replication jobs:
Backup jobs
Replication jobs
Recovery Jobs
In NAKIVO Backup & Replication, a job can have one or more job objects to process. Depending on your preferences, job objects may be reordered for processing within a job. See the example below.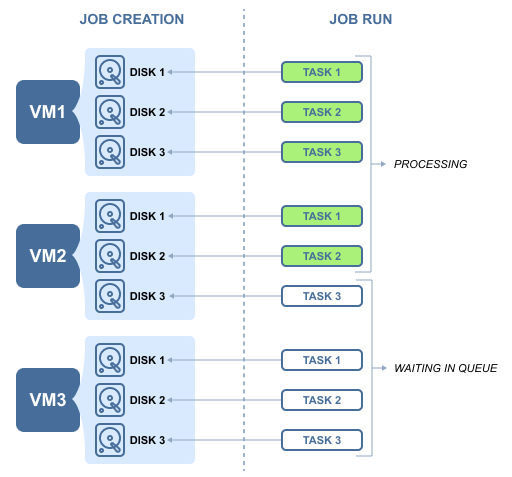 Each job object may consist of one or more machine disks, Oracle databases, Exchange Online mailboxes, OneDrive for Business instances or SharePoint Online sites that have to be processed within a job run. Data processing that is related to a specific VM disk or service constitutes a single task, in the scope of the corresponding job. Such tasks are processed by a Transporter. For the sake of managing the load over the infrastructure, any Transporter is configured to process a limited number of concurrent tasks. When a task is processed, the Transporter starts processing another task if available. A task can be one disk, file or recovery session, Oracle database, Exchange Online mailbox, OneDrive instance, or a SharePoint Online site. By default, NAKIVO Backup & Replication is set to process 6 concurrent tasks per one Transporter. Refer to Editing Transporters to learn how to change the Transporter maximum load.