Backup from HPE 3PAR and HPE Nimble Storage Snapshots
NAKIVO Backup & Replication allows you to use HPE 3PAR StoreServ and HPE Nimble storage devices to back up from storage snapshots. This backup approach offers advantages when your VMs are processing large amounts of data while being backed up. The backup from storage snapshot process includes the following steps:
A VM snapshot is created.

Soon after, a storage snapshot is created.

The VM snapshot is removed.
The VM snapshot only exists for a short period of time because the storage snapshot takes a small amount of time to be created, and it contains all required data for performing VM backup (delta and CBT data). A storage snapshot can be created within seconds, and it consumes a small amount of space which, in turn, reduces the impact of backup activities on the production environment and improves RPOs.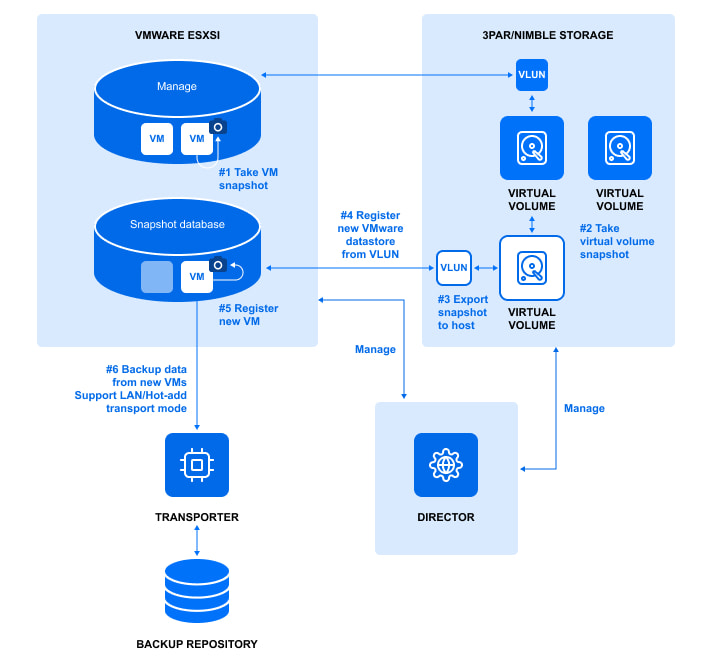 To back up from HPE 3PAR/Nimble storage snapshots, do the following:
Add the HPE 3PAR storage device or HPE Nimble storage device to the inventory.

During VMware Backup Job creation, add VMs that have their disks residing on the supported HPE 3PAR/Nimble storage devices.

Enable Backup from storage snapshot on the Options page of the backup job wizard.

Complete the wizard and run the job.