Deduplication Appliance Support
Deduplication appliances are solutions that implement specialized data reduction techniques to eliminate duplicate copies of repeated data. Deduplication appliances are leveraged across a range of data protection solutions, regardless of whether network-attached storage, disk, and/or tape is used. The biggest advantage of deduplication appliances is their ability to reduce datastore space used – sometimes by ratios of 20:1 or more. 
NAKIVO Backup & Replication supports integration with deduplication appliances. For details, refer to the following sections:
NAKIVO Optimization for Deduplication Appliances
NAKIVO Backup & Replication provides a special type of Backup Repository (stream repository) optimized for high performance with deduplication appliances. With this type of Backup Repository, NAKIVO Backup & Replication supports virtually any type of deduplication appliance as a primary or a secondary backup destination. The architecture of such Backup Repository is based on sequential block write operations through a restricted number of data streams and storing backup blocks in dedicated data files. Data blocks are stored in incremental backup files and full backup files. This means that the repository stores VM backup chains consisting of periodic full backups and several increments between these full backups.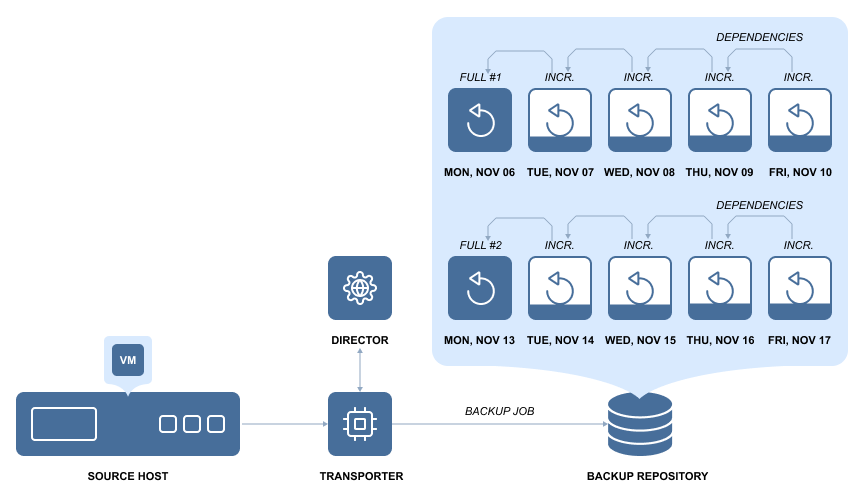 In terms of integration with deduplication appliances, a stream repository:
Creates fewer data streams in read/write operations during VM backup and recovery.

Does not leverage the global data deduplication feature of NAKIVO Backup & Replication.
Deduplication Appliance Configuration Details
When a Backup Repository is created on a deduplication appliance, NAKIVO's built-in data deduplication functionality is disabled. Additionally, the incremental-with-full-backups option is enabled by default. This configuration ensures that no extra resources are spent for double deduplication and reclaiming repository space is not required.